Cumulative Index to the Arkansas Historical Quarterly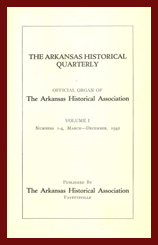 Covering volumes 1 - 59, 1942 - 2000
You may browse the entries under a particular letter:
A | B | C | D | E | F | G | H | I | J | K | L | M | N | O | P | Q | R | S | T | U | V | W | X | Y | Z
or you may open the entire document (a 22.5 MB file that may take several minutes to load).
The AHQ Index is in Adobe© PDF (portable document) format. You may download a free copy of the Adobe Reader at the Adobe site.
For More Recent Issues
Need to find an article after 2000? Index Arkansas indexes the Quarterly articles up to the current issue.
University of Arkansas, Fayetteville, Students, Faculty and Staff
Have a citation and need to find a copy of an article from the Quarterly?
Print copies can be found in the Main collection and in Arkansas Collection at call number F 406 .A6.
The Quarterly is also available online to UofA students, faculty, and staff:
in JSTOR from 1942 - present [most recent 5 years not available]
in ProQuest from 1999- present
in Ebsco from 2005 - present.
Contact the Arkansas Historical Association for comments or suggestions on the AHQ cumulative index.
AHQ cumulative index complied by Kim I. Martin, Walter L. Brown, Denyse S. Killgore, and Kevin Brock from annual indexes prepared by Walter L. Brown, Denyse S. Killgore, Gretchen B. Gearhart, J. Wayne Jones, and Suzanne Maberry.
Arkansas Historical Association. 2005. All Rights Reserved.